Village Hall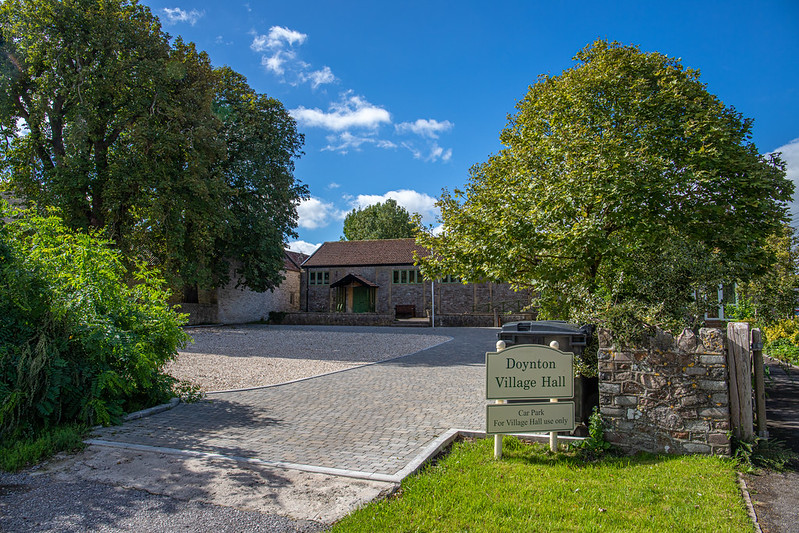 Doynton Village Hall was given to the residents of the Parish of Doynton by Charles Samuel Clarke in 1937, for the purpose of physical and mental recreation and social, moral and intellectual development. It is set in the centre of our village and is a well used venue - for exercise classes, community meetings, exhibitions, dog training classes, concerts, film nights, parties and other social gatherings. The hall hosts a limited number of wedding receptions each year, with preference being given to couples with a connection with the village. It is a registered charity and is run entirely by volunteers.
In recent years, substantial improvements have been made to the Hall, including wifi, all-weather car parking, wheelchair access ramp and accessible toilet, hearing loop, air source heating system, tri-fold doors to access the back garden and photovoltaic cells on the roof of the Hall.
At the back is a patio and spacious garden, accessed from the Hall through tri-fold glass doors and closed off by gates on either side, providing a secure play space for children.
The Hall has a kitchen equipped with cooker, larder fridge, plumbed-in tea urn, service hatch, crockery, cutlery and glassware. The kitchen is licensed for food preparation. Sufficient tables and chairs are available to seat 100. The Hall is licensed for a maximum of 120 people (subject to COVID-19 restrictions in force) and also licensed for the sale of alcohol within the building.
Â
---